The history of Dubai is rich and complex and dates from centuries back, but don't be fooled, Dubai is one of the most modern, wealthy and best functioning cities today!
This means that Dubai is home to some pretty exceptional hotels, apartments and buildings, and that also means that it can be an absolute nightmare trying to find where to stay when you visit the city. Fear not, as I have done the hard work for you and have created this ultimate guide to staying in Dubai.
Whether you are visiting Dubai for work, going on a holiday there, simply passing through for a few days on your way to another destination (Dubai is a major transit hub), or looking for some Dubai family hotels, I have the perfect accommodation for you!
In this article you'll find the best hotel rooms and apartments to fit any budget and I've even added a section of accommodation near the airport!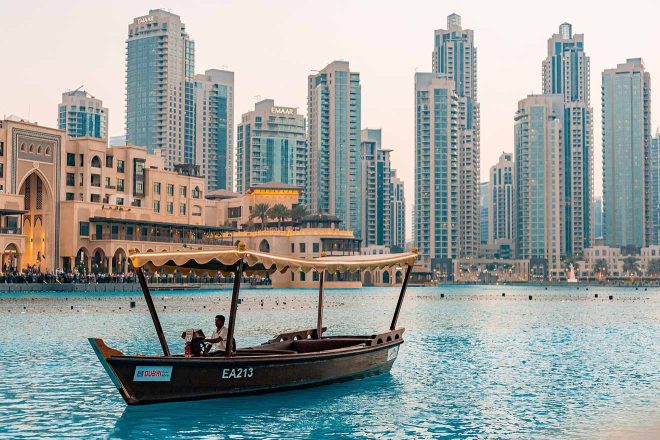 There are a few different areas in Dubai where you could end up staying depending on what type of stay and accommodation you want, the budget you have and how many people you are.
Here is a simple breakdown of the best Dubai neighbourhoods for tourists:
PRO TIP: Make sure you choose a hotel that is close to the metro so you'll easily get around the city!
As a general rule, I encourage you to book your accommodation as far in advance as possible, to not only ensure you don't miss out on the best hotels in Dubai, but in many cases you will find a cheaper price too!
However, this is especially pertinent for Dubai. Due to its prominence on an international commerce level, Dubai can become very full and booked out months in advance (keep your eye out for Dubai hotels special offers!). Therefore, be sure to make your Dubai hotel booking ASAP!
So let's get into it, here's my complete guide to Dubai accommodation: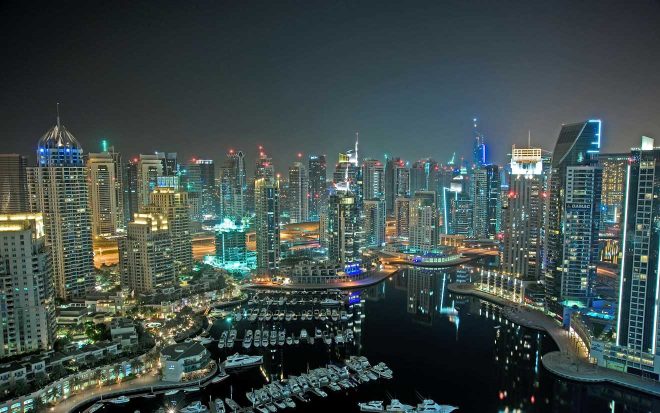 Whether you want to stay in the legendary Burj Khalifa, with views across the whole city or even on the infamous Palm Jumeirah island, Dubai has many, many hotels to choose from. As I alluded to before, there are some seriously luxurious hotels in the city; however, Dubai prides itself on being a hospitable city, meaning that there will be an option for every budget and style, as there are even some very cheap hotels in Dubai!
Here are my favorite luxury, middle-priced and budget hotels in Dubai:
1. BEST LUXURY HOTELS IN DUBAI (US $160 AND UP)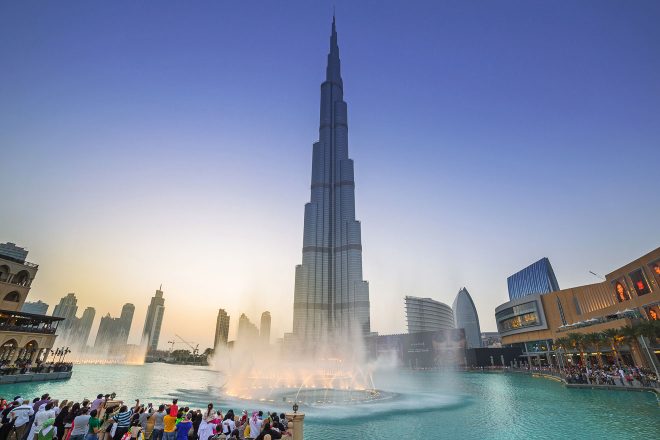 If there's one thing that Dubai is known for and knows how to do it, it's luxury!
From the world's first 7-star hotel in Dubai (yes, you read that right!) to the highest concentration of supercars in the world (probably), Dubai is home to some serious luxury, so I thought this deserves its own special section!
Honestly, this city has the biggest variety of luxury hotels I've seen in the world, some of them being a unique experience by themselves!
In this list you will find 5-star hotels in Dubai, some famous hotels to stay and also hotels to visit even if you aren't staying there. In fact, you will find many entertainment experiences in my Things to do in Dubai article!
For your convenience, I have broken this section down to luxury Dubai hotels in the city center and hotels on The Palm Jumeirah:
1.1) BEST LUXURY HOTELS IN DUBAI CITY CENTER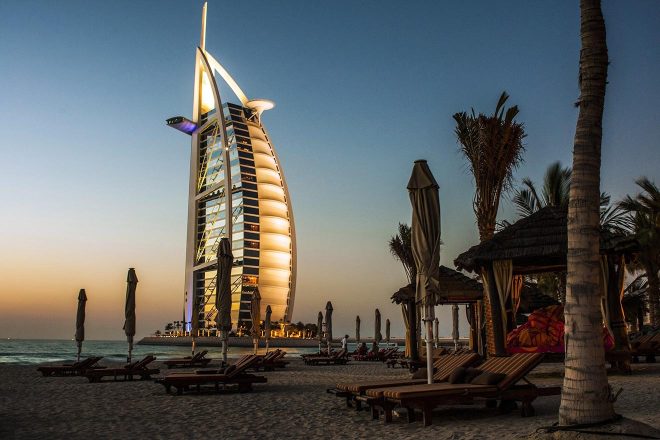 Burj Al Arab Hotel
Did you know that Burj Al Arab is the only 7-star Hotel in the world? It's true!
Located on its own island, this hotel is what dreams are made of. Featuring 9 restaurants, a water park, two pools, bars, fitness centre, ipad in each room, the list could go on forever. This is the ultimate in luxury, and by no means cheap, but if you can fit it in the budget, go for it, you will absolutely not regret it!
However, if it is out of your price range but you would still like to visit, then check out my Best Tours in Dubai post, where I explain how to get in this hotel without actually booking a room there!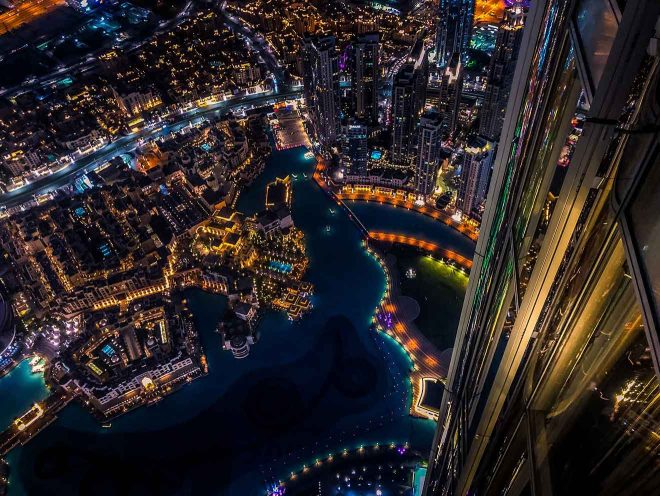 View from Burj Khalifa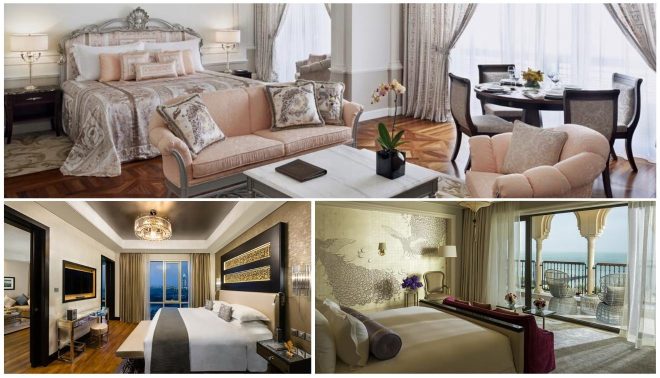 Raffles Dubai
RELATED READ: Burj Khalifa tickets – Everything You Should Know Before You Go
Book a hotel in Dubai Downtown
1.2) BEST LUXURY HOTELS ON THE PALM JUMEIRAH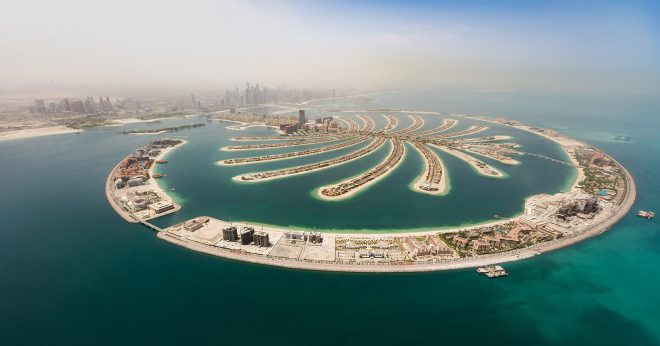 The Palm Julmeirah is a man-made archipelago in the shape of a 5-km long palm tree that homes many upscale hotels and attractions in Dubai and makes for one of the best places to stay in Dubai!
I have divided the places to stay in Dubai in two areas, as your choice really depends on your travel style or interests. For instance, the city center is very convenient in terms of travelling with public transportation or its proximity to landmarks. However, the Palm is a completely different experience with great views, lots of activities going on, and more of a Miami Beach Middle Eastern style!
Here are your best luxury options on The Palm: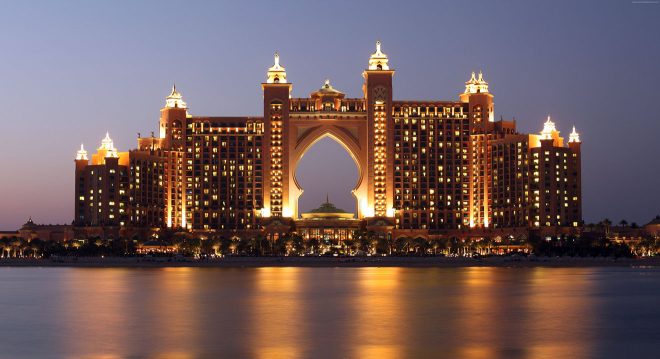 Atlantis Hotel
The Atlantis is child-friendly too (you can check out my complete guide of Things to do in Dubai with kids here) as it has an in-house underwater aquarium and guests have free entry to the Middle East's biggest waterpark, which is conveniently located right next door!
PRO TIP: Select the underwater suite if you'd like to sleep surrounded by fish and feel what would it be like to sleep in the actual underwater city of Atlantis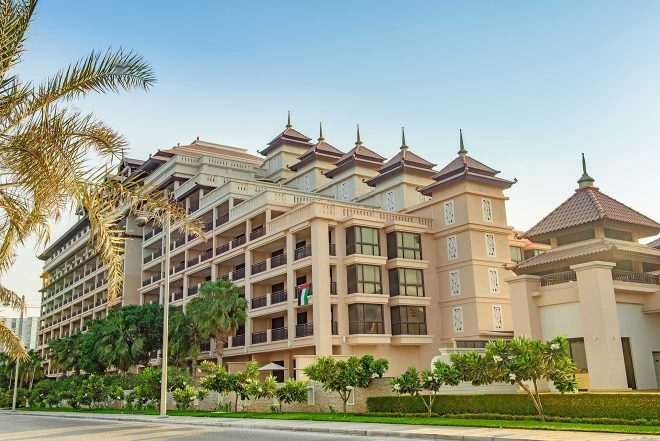 Anantara The Palm Resort
RELATED READ: Best Dubai Tours – from City to Helicopter Tours
2. MIDDLE-PRICED (FROM US $100 TO US $160)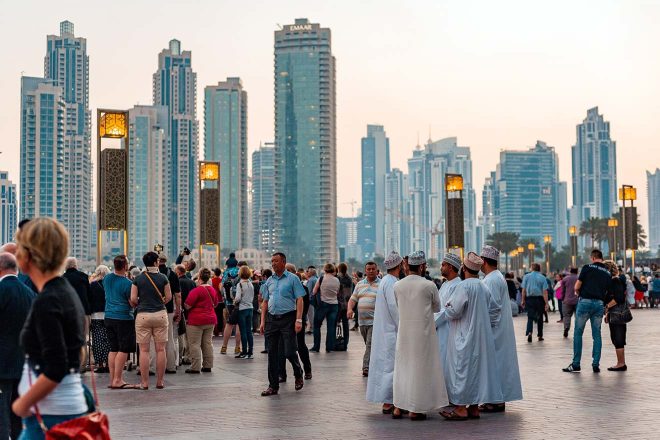 If you don't have the budget of an Emirati oil Sheikh but still want to enjoy your time in Dubai in comfort, then this section is perfect for you! Hotel prices in Dubai can quickly balloon out of control, so it can be a bit daunting seeing multi-thousand dollar rooms when searching for hotel rooms in Dubai!
But don't worry! I've done the research for you so only the easy part of choosing is left. Here is my guide to mid-priced hotel rooms in Dubai: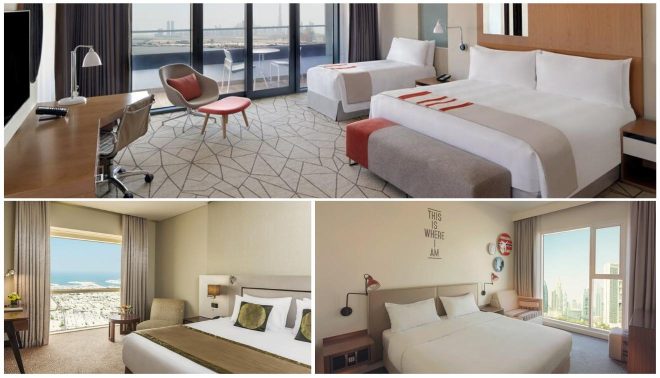 Check the rates for Dubai here
3. BUDGET (UP TO US $100)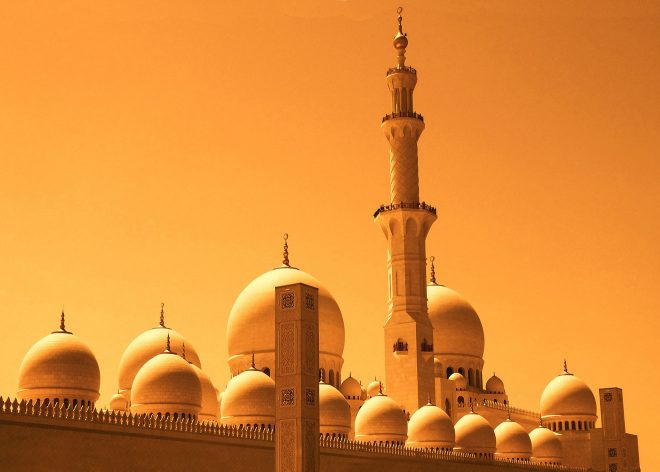 Dubai is a city of great contrasts in many aspects. The immense wealth generated by international commerce and the oil industry mixes with everyday, regular people and migrant workers to create a melting pot of cultures and people.
This also means that there is accommodation for everybody, so if you're looking to pocket a few extra dinars, then take a look at these three affordable hotels in Dubai: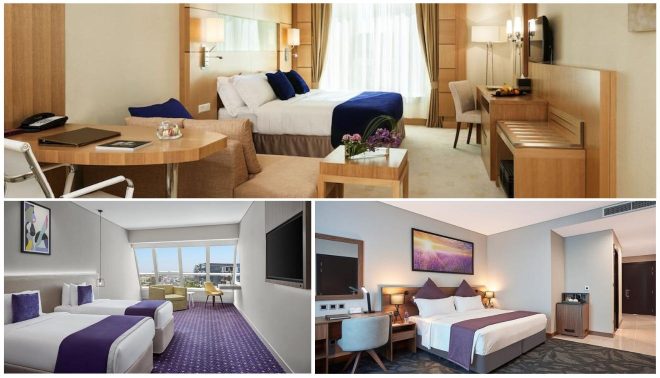 Check the rates for Dubai here
BONUS 1: BEST APARTMENTS IN DUBAI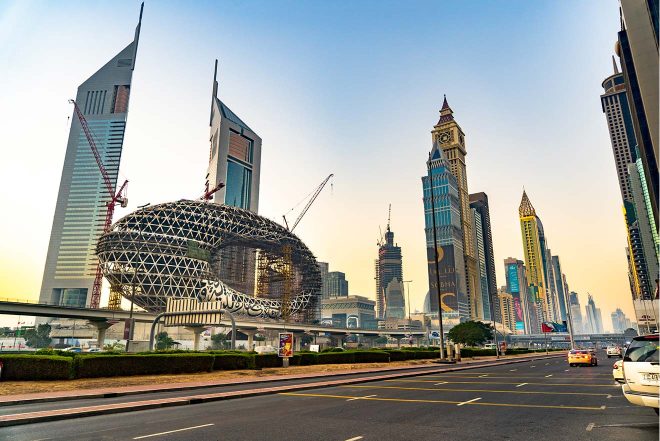 In my humble opinion, there is almost no place better in the world to let loose and get an apartment than Dubai! There are some truly spectacular properties available in the UAE's biggest city, so if your budget is endless or even quite strict, you will definitely find an awesome apartment for you and your travel buddies/family/colleagues in the list below!
So here are my recommendations for great apartments in Dubai:
LUXURY (FROM US $160 AND UP)
Following on from the luxury hotel section, Dubai again really nails the luxury apartment section. Due to the number of international business travellers constantly coming into and out of Dubai, an enormous number of self-contained apartments have popped up over recent years, and let me tell you, some of them are very high class!
Here are three of the best luxury apartments in Dubai:
Check the rates for Dubai here
MIDDLE-PRICED (FROM US $80 TO US $160)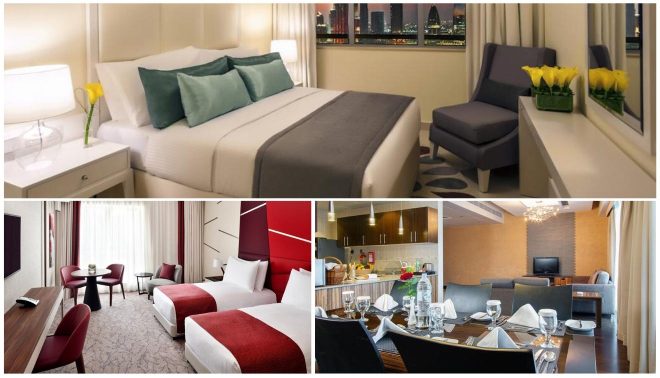 If you are looking for a little bit of freedom during your stay in Dubai but don't want to sell your kidney to be able to afford an apartment, then don't worry, there are plenty of options in Dubai for every price range! In this section I'll outline some mid-priced apartments in this wonderful city:
Check the rates for Dubai here
BUDGET (UP TO $80 USD)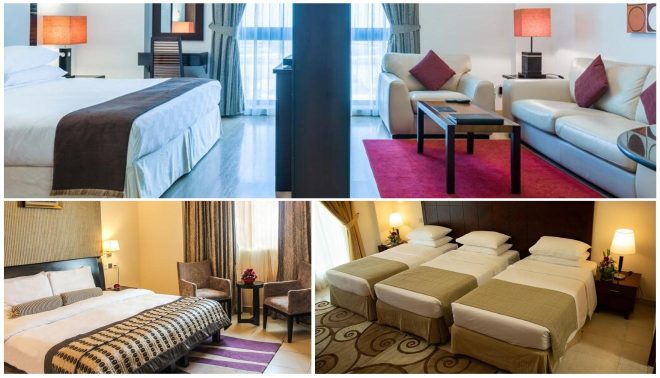 All this talk of the Burj Khalifa, 7-star hotels in Dubai and luxury may have you worried for your wallet, but rest assured there are also cheap hotel apartments in Dubai! The fact that Dubai is now a major international tourism destination as well as a transit hub means there are options for every budget.
Here are some great places to stay in Dubai that won't break the bank:
Check the rates for Dubai here
RELATED READ: 12 Amazing Top Things to do in Dubai
BONUS 2: BEST HOTELS NEAR DUBAI AIRPORT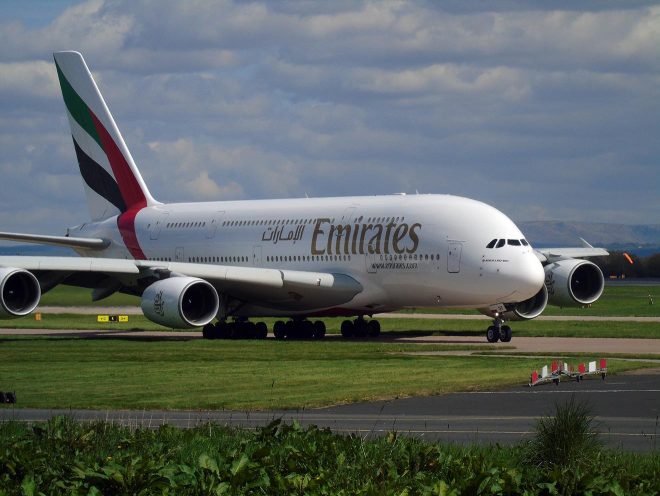 It's always handy to have an easy and quick journey to/from the airport when travelling to a new city. Luckily enough, Dubai International Airport (DXB) is located fairly close to the city center (approximately 5km). However, it's not that easy to find Dubai airport hotels! Fear not, as I have done the research for you and now you only have to choose from the best options out there!
So let's get into it, here's my guide to Dubai airport hotels: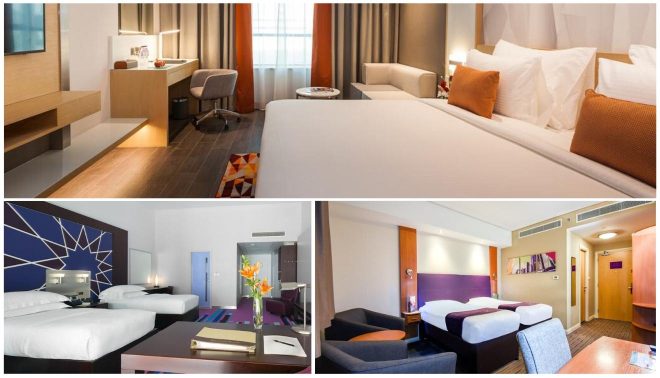 LUXURY (US$160 AND UP)
If you're like me, when you go to Dubai you like to indulge! After all, it is a city built upon indulgence. So even if you are looking for a quick getaway and want to stay near the airport, that doesn't necessarily mean you have to give up on that 7-star hospitality Dubai prides itself on.
Take a look at these three luxury Dubai hotels located near the airport: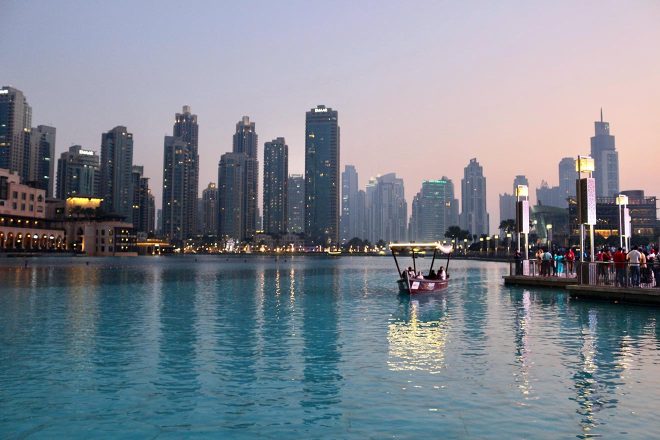 MIDDLE-PRICED (FROM US $85 TO US $160)
If you're looking for the best place to stay in Dubai close to the airport without breaking the bank, then this is the section for you. Below I have chosen three of my favorite hotels close to DXB that offer the best value for money:
READ MORE: Car Hire in Dubai: From Luxury to Cheap Rentals
BUDGET (UP TO US $85)
If you're coming to Dubai for a short period and don't want to spend a lot of money or just simply transferring to another flight the following day, you can find cheap hotels in Dubai close to the airport. In fact, it's actually easier than finding cheap rooms in the city center! Here are two options that will get the job done:
---
CONCLUSION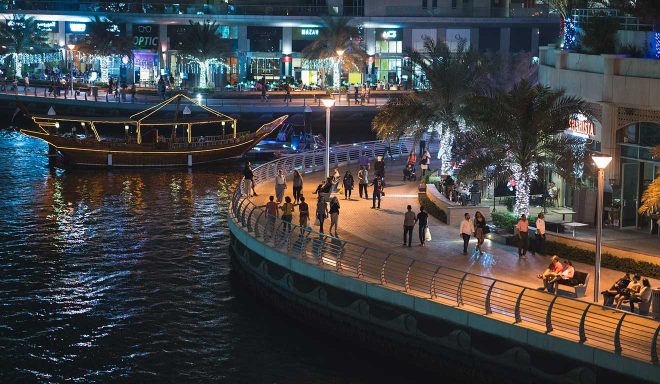 There you have it – this was my ultimate guide for where to stay in Dubai!
Dubai truly is a one-of-a-kind, amazing city so I do encourage everyone to visit it at least once in their lifetime. The good news is that I've found accommodation for all types of budgets and travelers in this article! Whether you want to be treated like a queen (or king), or you are coming to Dubai on business or are actually on a budget and want to do Dubai on a shoe-string, it is all there for you!
As we've seen though, there are some crazy and cool places to stay in the city. I mean, imagine staying in a hotel that is on it's own island! So please, enjoy your time in this crazy city and I'd love to hear about your experiences down in the comments! Also, feel free to hit me with any questions you might have about Dubai hotels or accommodation as I'm more than happy to help.
You can also check out my article about the Best things to Do in Dubai, you'll be surprised to find out about the unique activities you can do there! And don't forget to book early – Dubai hosts hundreds of conferences each year, so depending on the time that you visit, things can book out a long time in advance!
Happy travels!